When it comes to camping, hiking, fishing, and experiencing the great outdoors on the way to the Washington Coast, there are perhaps no better parks to visit than Friends Landing and Lake Sylvia State Park. Conveniently located just outside the city limits of Montesano, these two popular destinations are perfect for RVers, tent campers, and picnic-goers of all ages and adventure-seeking levels. Definitely check them out next time you are looking for where to camp on the way to the Washington Coast.
Camping on the Way to the Washington Coast at Friends Landing
Whether you're looking for an overnight stay or a week-long camping adventure, the friendly and knowledgeable staff at Friends Landing are eager to welcome guests to this 152-acre historic getaway. Amenities including ADA accessible restrooms, showers, and playground, as well as picnic shelters and a dump station. Reservations are recommended. Read the current policies and make a camping reservation on the Friends Landing website or call 360-861-8864.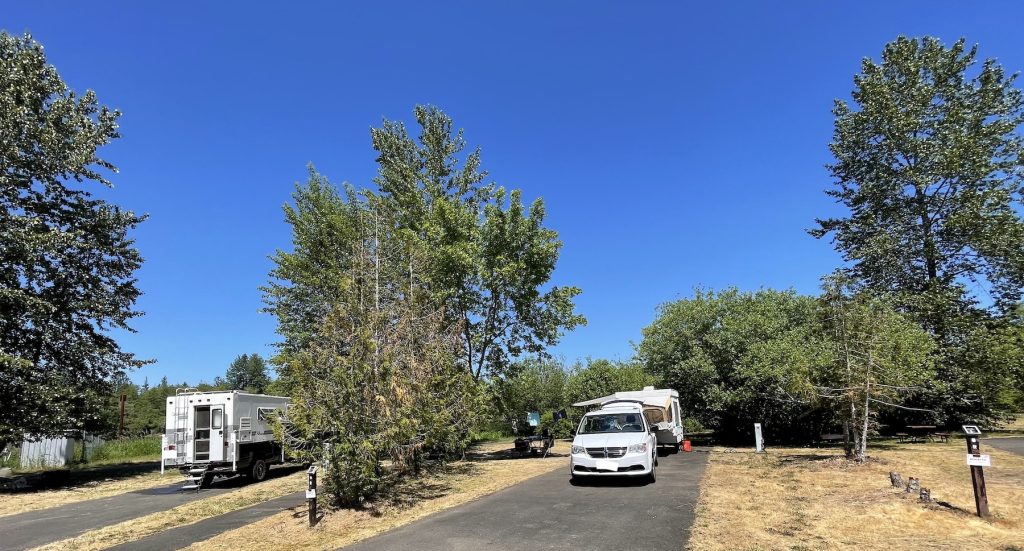 If fishing is on the agenda, be sure to check current regulations with the Washington Department of Fish and Wildlife before heading out to Friends Landing. Salmon and sturgeon are the two major catches, and a boat launch offers access to the Chehalis River and Lake Quigg. There are also opportunities to access fishing shacks along the river, and piers and trail access on the lake.
The paved, bridged 1.7-mile hiking trail takes visitors around Lake Quigg, from bird-watchers to those wanting to take in the surrounding beauty. While meandering through wetland marsh, woods, and meadows, check out the viewing docks and interpretive signs along the way. Be sure to bring binoculars and a camera to capture images of wildlife that may make an appearance including hawks, bald eagles, various ducks, woodpeckers, Canada goose and more.
Camping Near the Washington Coast at Lake Sylvia State Park
From standard campsites and partial-hookup sites accommodating tents and RVs up to 30 feet in length, to primitive walk-in and hiker/biker sites, there are plenty of options to enjoy camping and RVing at Lake Sylvia State Park. Amenities include restrooms, showers, and a dump station, with accessible options available. Reservations are recommended. Call (888) 226-7688 or visit the Washington State Park website to book your stay.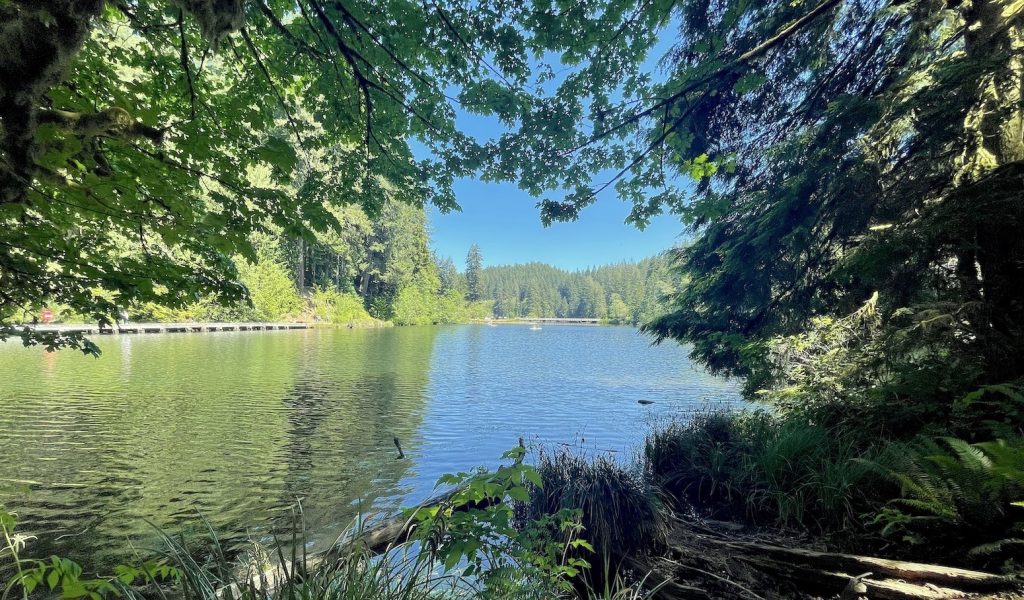 The 252-acre wooded and rustic park includes 15,000 feet of freshwater shoreline at Lake Sylvia, with opportunities to fish, swim and take in the serenity of this former logging camp. Displays of 20th-century logging gear are sure to delight history buffs.
A 5-mile walking loop around the lake is ideal for birdwatchers, and allows visitors views of wetlands, a covered bridge and a dam that once provided hydro-electric power to the logging camp. Those wanting to experience more advanced hiking and biking adventures have access through the park to trails in the Montesano City Forest.
Kayaks and paddle boards are available to rent, and there is an ADA accessible playground. Check current freshwater regulations with the Washington Department of Fish and Wildlife, then visit the ADA accessible fishing dock.
Where to Eat While Camping Near the Washington Coast
Before heading out to your campsite at Friends Landing or Lake Sylvia State Park, grab some groceries at Safeway at 221 W Heron in Aberdeen, Elma Farm Stand & Public Market at 617 E Young in Elma, or Pick Rite Thriftway at 211 Pioneer Avenue E in Montesano.
For a quick snack and a book to read next to the campfire, find coffee, tea, bakery items, cheeses, and more at Lemon Hill Café & Bookstore at 136 1st Street South in Montesano. If you're driving in from Aberdeen, Huckle-Bearies Espresso & Bake Shop at 2400 Sumner Avenue offers a drive-through option for beverages and baked goods. In Elma, the Coffee Coop at 701 E Main Street has dine-in or drive-through options, as well as an outdoor seating area.
Those looking for a more substantial meal will find pastas, sandwiches, calzones and a large selection of domestic and microbrew beers at Gepetto's Restaurant and Sports Bar, located at 126 East Pioneer Avenue in Montesano. Find fresh chips and salsa, fajitas, enchiladas, rellenos, and margaritas at El Rancho Family Mexican Restaurant, located at 216 S Main Street in Montesano. Signature pizzas, salads, chicken alfredo, and more await families at Westside Pizza at 113 S Main Street in Montesano.
Activities Near Lake Sylvia and Friends Landing
There's plenty to keep visitors busy at both Friends Landing and Lake Sylvia State Park. Options for additional family activities await nearby. The Montesano Timberland Library at 125 Main Street S in Montesano is stocked with the latest books and magazines for those looking for a quiet afternoon of reading. Check the library website for story times and class offerings.
Bowlers and gamers will enjoy a visit to Elma Lanes at 605 E Main Street in nearby Elma. In addition to pool tables, electronic dartboards, and TVs with the latest shows and sports on display, there's a full-service restaurant onsite.
If golf is your sport, practice your putting or reserve a tee time at Oaksridge Golf Course at 1052 Elma Road in Elma. The staff welcomes golfers of all ages and skill levels to their course, and specializes in helping individuals improve their skills.
Sponsored