When you think of Grays Harbor, images of towering old growth forests and the coastal bounty of the nearby Pacific Ocean often come to mind. The region's plentiful rainfall and moderate climate also make the area a good
place to grow food. The area has a long agricultural history and the region continues to foster both established and burgeoning farms alike. Community supported agriculture (CSA) is one such form of growing food that is gaining momentum in the region. Sky Island Farm and Harbor Roots are two farms that are leading the way for CSAs in Grays Harbor.
What exactly is a CSA and why might you consider buying food from one this season? A CSA is an excellent way to purchase local and seasonal products directly from a farmer. Although not always the case, customers frequently pay a CSA farmer a share for the entire season before the growing season. This structure offers clear advantages for both the farmer and customer. For the farmer, receiving payment at the beginning of the season helps with start-up costs, allowing them more time to focus on growing food. The customer benefits by receiving a regular supply of fresh food throughout the entire growing season, all while supporting the local food economy.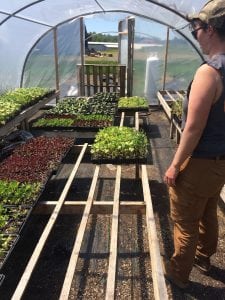 Located in Montesano, Harbor Roots CSA is in its first season, and is an enterprise launched by Reverend Sarah Monroe of Chaplains on the Harbor. "Our hope is to create a whole grouping of social enterprises that can hire people who are getting out of poverty, people who have served time, people who have dealt with addiction, that can restore the land and the people together," explains farm coordinator Hannah Jones. In addition to offering four paid farming apprentice positions, the CSA staff will also provide social work support for employees.
Harbor Roots will offer 50 CSA shares for the growing season, which runs from June to October, with three acres of organic vegetables and herbs in cultivation. With drop-off locations in Aberdeen and Olympia, CSA members will pick up one box of vegetables each week, which will include the following items depending on seasonal availability: lettuce, carrots, potatoes, peas, radishes, brussels sprouts, swiss chard, squash, cucumbers, zucchinis, kale, tomatoes, broccoli, romanesco, spinach, cabbage, mint, cilantro, oregano, rosemary, sage, dill, peppermint, thyme, basil and parsley.
Shares are $550 for the roughly five-month growing season and each produce box is large enough to feed 2-3 people. Surplus vegetables that are not sent out in share boxes will be donated to local food banks in an effort to supply the community with fresh produce. "We're really trying to make this by and for the community, and we hope to see a lot more projects like this in the county that prioritize the people that have been hurt the most by the decline of the county," says Jones.
Sky Island Farm is a highly diversified small farm located in the Humptulips area north of Hoquiam. Situated about a mile from the Humptulips River, the region supports lush forests interspersed with verdant pastures. Owner and farmer, Katherine Harwell, has been gardening intensively for the past 15 years. After homesteading off the grid for a time in Northern California, she and her family established Sky Island nearly five years ago. In that time, they have developed a truly impressive array of products, all while carefully improving their land as watchful stewards.
Katherine and family grow an immense variety of vegetables, herbs, and flowers, and also maintain a milking goat herd so that they can offer lotion, soap, lotion bars and body butter. All of their offerings are produced organically and by hand. They also specialize in growing microgreens, which "have great flavors and the herbs are really brightly flavored, they really are intense. They are great additions to salad and it's really cool to be able to make pesto in wintertime," says Harwell.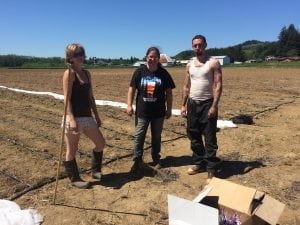 Sky Island Farm offers a market-style CSA, where "instead of giving customers a predetermined box of produce, members will be able to go online and chose what they want," explains Harwell. This way, in addition to the many vegetables and herbs that they produce, CSA customers will also be able to purchase fruits, mushrooms, cheeses and more from other local, small-scale farmers. "We love to keep what we're doing here in the community and have them be a part of this," says Harwell.
CSA shares are $15 per week for a family of three or less and $20 per week for a family of four or larger, with convenient drop-off locations throughout the region. Harwell stresses that their CSA style is flexible, and they do not currently require a full season investment in order to join the CSA.
You can also purchase vegetables and herbs from Sky Island Farm at the Grays Harbor Farmers Market, Hoquiam and Aberdeen Swanson's, Jay's Farmstand, Organics 101 Market, Elma Farmstand and Public Market, Seabrook and Oyhut Bay.