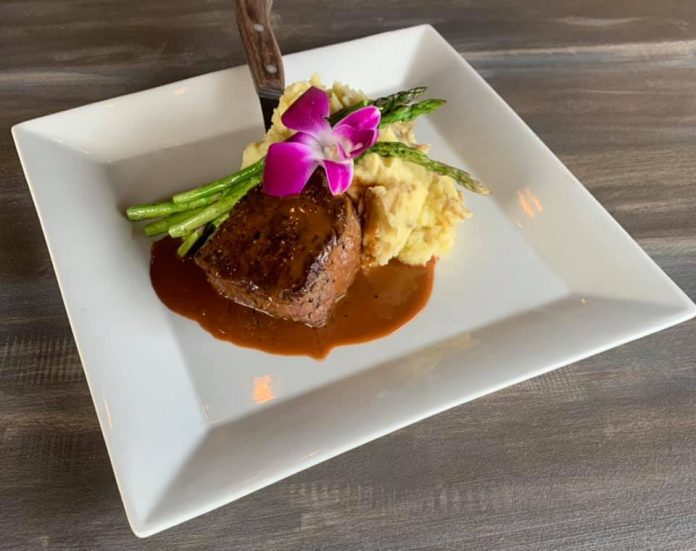 The growing community of Oyhut Bay Seaside Village in Ocean Shores has expanded significantly over the past few years to include nearly 40 individual homes, multiple shops, kayak and bike rentals, and a yoga studio. And it's still growing. Part of this significant growth is thanks to the successful onsite restaurant, Oyhut Bay Grill, that takes pride in partnering with other locally-owned businesses to both supply the restaurant and support their endeavors while introducing clients to their products.

First opened in 2017, Oyhut Bay was built on the borders of the 683-acre Oyhut Wildlife Recreation Area on the end of the North Beach Peninsula of Grays Harbor. This tranquil area is known as a bird watchers haven as the woodlands, wetlands and tidal flats are home to many breeds, including blue herons, brown pelicans and snowy owls. The community is also conveniently set across from an access point to the 23 miles of fresh waterways that weave throughout the city as well as an easy 5-minute walk to a secluded entrance to the bay with the Pacific Ocean just around the corner.
The vision for a community in the city came from owner and developer, Pat Brunstad, a Hoquiam native. While the community started out as a small refuge just outside of downtown Ocean Shores, it has rapidly grown, especially as the massive influx of housing demand that has cascaded down upon much of the country and Grays Harbor.
Aberdeen was recently featured in a KING 5 News article for the city's exponential growth making it one of the most impressive in the country. With that growth, the spillage has also trinkled out to Ocean Shores, which was once known as a quieter portion of the area. Within the last 3 months alone, 8 new houses in Oyhut Bay have landed on the market and over 20 more are currently being built. While these homes are privately owned, most are turned into vacation properties available to rent throughout the year and all feature the same interior design style for a consistent, beach-like feel.
Gather the Family at Oyhut Bay Grill
Any solid community has a place for family and friends to gather and connect. For Oyhut Bay Seaside Village, that place is Oyhut Bay Grill. The massive restaurant features both downstairs and upstairs dining areas along with a large balcony and outdoor seating near cozy firepits and under large umbrellas on sunny days. The Oyhut Bay Grill recently came under new management by Brian Cenci, a Washington native who spent 13 years bartending on the Las Vegas strip before moving his family to Grays Harbor. "Our goal out here is to try and keep everything close to home," explains Cenci. "With Oyhut Bay being a family-owned establishment, we hope to work with other small businesses in the area as much as possible."
The vision to partner with local businesses in the area has quickly turned into a reality. A few of the partner businesses that Cenci, Head Chef Danica Thomas and Sous Chef Craig "Bear" Johnson, are proud to have onboard and a part of Oyhut Bay Grill's menu include liquor from the recently reopened, Wishkah River Distillery, beer on tap from Steam Donkey Brewing Co., Hoquiam Brewing Co., and Mount Olympus Brewing Co. and fresh coffee from Ocean Beach Roasters. These partnerships have been fantastic additions to the restaurant and Cenci is excited to continue expanding and working with more local establishments in the future.
As the community continues to grow with each passing day, Cenci mentions the upcoming additions to Oyhut Bay Grill including live music in the courtyard on the weekends, an ever-expanding cocktail menu using his former bartending knowledge, new, inventive menu items using fresh and local ingredients and events that involve the whole family such as visits from Santa and the Easter Bunny.
If you're looking for a fun weekend away on the coast or simply a romantic date night in a relaxed setting, plan a trip to Oyhut Bay. Enjoy a delicious meal, take the kids to the playground and play a round of cornhole, visit the local stores and unwind with a stroll on the beach or Wildlife Area to make memories to last a lifetime.
Oyhut Bay Grill is located at 404 Salmonberry Lane SW in Ocean Shores. Follow along on Facebook for upcoming events, menu specials, hours and more information.