Going on a vacation but can't bring your four-legged friend? Your dog can go on vacation too at Paws & Claws Adventure Resort! This dog boarding facility in Ocean Shores is a haven with over 3,500 square feet of play area for your furry friend. The owners will be sure your dog has a fun and safe time during their stay.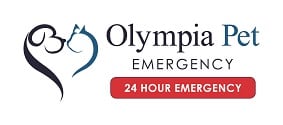 Paws & Claws Adventure Resort has been open for eight years, but the last three have been under new ownership. Katelyn Horney, one of the current owners, has worked with dogs since the age of 17. Katelyn first began working with rescue dogs in Los Angeles.
"At 21 years old I found myself working my first kennel job and loved it," Katelyn says. "At 22 I relocated and started working as a manager of a kennel where I lived onsite while also starting work as a vet technician." Katelyn soon realized that working in kennels was her passion.
"I decided to open one myself" she continues. "That's when I came across someone selling their business in Ocean Shores. At 23 years old I packed up all my things and moved from California to Washington to my dream job." Not too long after Katelyn moved to Washington her sister also moved north to help run the business with Katelyn and her partner Jenni.
Owners Katelyn and Jenni have put their dreams to reality. Your pup won't want to leave the Paws & Claws Adventure Resort! The friendly and knowledge staff will win your dog's heart!
Dog Boarding, Grooming and more in Ocean Shores
Paws & Claws Adventure Resort not only offers boarding for your pet, but also in home pet sitting and grooming services like de-shedding treatments, nail trims, anal gland expressing and teeth brushing. The services are provided by trained and experienced professionals. The groomer has five years of experience and great reviews. The prices can vary for grooming services depending on size and coat.
In home sitting can be full day and night or just part time. For full time an employee would stay at your home, feed, water and clean up after your pets. Two walks a day would also be included in the service. Part day or night would allow the pet owner to choose what time the employee checks on their pets. This service only includes feeding and letting the pets outside at the home.
Paws & Claws Adventure Resort also offers packwalks! For 30 minutes dogs are led by experienced staff to explore the neighborhood.  Packwalk group sizes are 3 to 5 dogs or 6 to 10 dogs. Different pack sizes ensure the pet and owners needs are met. This service is available exclusively in Ocean Shores with hopes to expand in the future.
Meals can also be provided by the resort for an extra fee. If your stay is longer than planned, your dog will not go hungry. However, the staff encourages visitors to bring their own food, so your dog sticks to their normal diet.
If you're not located in Ocean Shores, Paws & Claws still offers daycare accommodations. The business offers daily taxi services for Aberdeen and Hoquiam clients. Schedule a day of play for your pup while you are at work!
Your dog will be able to sleep wherever they please at the resort. The owners Katelyn and Jenni have created a "home away from home" for the dogs. Someone is at the resort 24/7 and at night you will find them sleeping in the loft where dogs can visit if they'd like. There are various dog beds and futons available for your pup to get comfy. The backyard is secure and open all night for dogs to wander as they please. Such an open space creates an anxiety free experience for your pup!
There are also no set limits on how long your dog can sleepover. The owner Katelyn said, "We have had all sorts of situations where dogs have had to stay for multiple months, we have no limitations on how long your baby can stay with us."
Required Safety for all Pups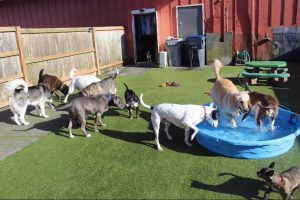 All dogs must be current on vaccinations with veterinary records turned in to the resort before the dog can visit. Some vaccinations are not effective immediately, so be sure to communicate any recent vaccines. Dogs must be spade/neutered if they are over 1 year old.
This resort is cage-free so dogs must also pass a temperament evaluation. The evaluation takes about an hour of free play time. Katelyn explained that they have the parents go in town for a little so the kennel manager and technicians can evaluate the dog's reactions and type of playing.
"Our kennel team is very knowledgably when it comes to dog's behaviors and look for basic sense of fear, anxiety and aggression,' Katelyn says. "When it comes to fear and anxiety we try to come up with a plan for their stay. Some might need extra love or to stay in the little dog area for more comfort. The only way the dog would fail the test is for signs of aggression."
Check out the resort on the Paws & Claws Adventure Resort Facebook Page or stop by at 899 Point Brown Ave NW in Ocean Shores.