At home or around school, everyone knows Alejandro Hernandez by either his first name or most likely by A.J.

But out on the football he is known as "Big A."
Hernandez was saddled with the nickname four years ago as a freshman by former Elma head coach Jim Hill.
"The first day of practice, Coach Hill came up to me and told me they had just lost their Big A from last year," said Hernandez, later adding that the nickname previously belonged to former Eagles player Austin Neary prior to his graduation. "They needed a new Big A, and if he's giving it to you, you have to go with it."
It's a fitting moniker for the senior defensive tackle, who at 280 pounds is the largest player on the Eagles roster this year by a good 20 pounds.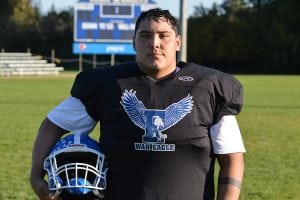 But the reason the name is so appropriate doesn't end there. Big A also accurately describes Hernandez's kicking style. The kid's got a big leg. Need proof?
According to head coach Ron Clark, on frequent occasions during practices Hernandez successfully hits field goals from 50 yards out.
It's a rare combination, one that Clark says he hasn't had on his team in more two decades of coaching – a player who is both a run stopper capable of spearheading the Elma's defensive line and a kicker with long enough range that he can split the uprights from a ways out.
"He's a good one on both sides," Clark said. "He is a fabulous kid to work with. He has a big heart and is very kind and a little nasty on the field."
While Hill was the one who first labeled Hernandez "Big A," it was Bryan Schneider, a former Eagles assistant coach, who first coxed Hernandez out for football.
When people initially see Hernandez they just assume football came first and the kicking aspect was later tacked on.
It's actually the other way around as Hernandez didn't start playing football until ninth grade, several years after he already took up soccer.
"I've been playing soccer my entire life," Hernandez said. "My older brother introduced me to it. He told me, 'This is going to be your game no matter what. You're going to play with me.'"
That conversation took place when Hernandez was four-years-old. He's been playing soccer ever since.
"Soccer is absolutely by far my best sport," said Hernandez, who was an all-state goalkeeper as a junior and last year's 1A Evergreen League Defensive Player of the Year. "I grew up in Aberdeen where it's soccer dominated. When I moved to Elma, everyone asked if I played football and when I told them I didn't they all said, 'You're playing.'"
It was Schneider who first found out Hernandez had a background in soccer and quickly sold him on adopting football as a second sport. As Hernandez recalls, it didn't take much convincing.
"Coach Schneider said I kick soccer balls all the time, I should come out and try kicking a football around," Hernandez said. "I wasn't perfect at it, but I could kick it far. I thought if I gave it some time maybe it would come around and I would get better at it. Here it is my senior year and it turns out I'm pretty good at it."
Hernandez stated most opposing players are surprised the first time they see him line up for a kickoff with some even trying to block him as if he is a normal kicker.
"Coach Clark always tells me, 'Go get 'em. You're still a lineman" before kickoffs," said Hernandez, who was an honorable mention all-league defensive tackle in 2017. "In his head, I'm not a kicker."
After winning a combined five games over the last two seasons, including a 3-7 record last year, Elma, behind the strong play and leadership of Hernandez and his fellow seniors, has returned the Eagles to their winning tradition on the football field this year.
Elma opened the season a perfect 5-0, marking the program's best start since 1997, the year the Eagles won the first of two state 2A championships.
Elma is looking to secure its first trip to the state playoffs since 2005. The team earned nine consecutive state tournament berths between 1997 and 2005, winning state championships in 1997 and 2001 and finishing as the state runner-up in 1998 and 2002.
The Eagles are attempting to end that drought this year.
"The seniors have played a lot of football together. My sophomore year a lot of us started on varsity, and we've built up to this. All the extra work we put in is finally paying off," Hernandez said about the Eagles' turnaround. "We always keep telling each other to remember where we came from though. We've been 0-4 (two season ago) and this year we began the season 4-0. We just want to keep growing together as a team and enjoy playing with each other."