By Chelsea Royer

Most Grays Harbor locals are familiar with Lake Sylvia and the almost two-mile loop surrounding the creek and lake. Most are not familiar with the network of paths that add anywhere from 1.5 – 9 miles to your usual trek. Many of the trails are created and maintained by mountain bike enthusiasts, creating a web of routes intersecting with various logging roads.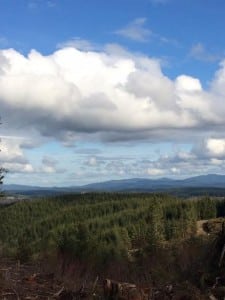 Lake Sylvia is an incredible resource for amateur or advanced hikers, exporting you from relative safety to remote areas lacking cell service. Used by runners to train for races and marathons, there are many challenging routes available for those seeking to push themselves harder.
Montesano local, Tiffany Schweppe, who ran the 2014 Boston Marathon suggests hikers to get a map. "The trails are kind of confusing. The mountain bikers build trails and you have to explore to know how they all connect," adds Schweppe.  "I really like the West Fork trail because you're less likely to get lost. Study the map ahead of time and decide where you're going."
For newbies wanting to explore the following trails, here are a few ways to avoid getting injured, lost, or stranded:
There have been cougar sightings over the last few years. Though it is not likely that the cougar will want anything to do with you, be aware of your surroundings and never hike alone. If you are travelling with a dog or small children, keep them close by.
In case of an emergency, knowing your location becomes critically important. Keep a map handy and pay attention to the names of any logging roads you cross.
Let someone back at home know your itinerary as you branch out onto the trails that are less frequented.
Drinking out of creeks and streams can bring disease – bring plenty of your own water.
Cell service is sketchy at best so pack wisely. Bring a first aid kit and flashlight.
The trails behind Lake Sylvia are a wealth of history, nature, and wildlife. Be kind to the paths, explore, be safe, and have fun!
The Brownie Trail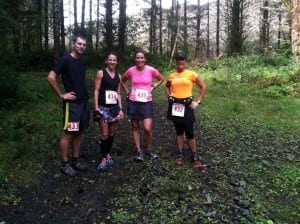 This trail is one mile long, connecting to the Ridge Trail and looping around to the Lake Trail for a total of more than two miles. It is named after the Brownie Girl Scout Group that planted some of the fir trees surrounding the trail. There are signs made in the 1970s and other indications of history you will walk past. This trek is especially beautiful because of the carpet of clover running on either side of the path. This is a favorite for some of the mountain bikers and Schweppe says is particularly fun to run.
Upper Sylvia Creek Loop
This trail connects many smaller trails for a total of between ten and eleven miles. Not for the faint of heart or those just starting out, this trail is an excellent goal to work up to and is sometimes used to train half-marathoners. It will take you up to the Brady/West Satsop area and will give you some fantastic views – especially at the point of the Satsop Crest. Franzine Potts, local marathoner and Human Resources Director at the YMCA of Grays Harbor, relates, "When you get to the top of the Satsop Trail, it feels like you can reach out and touch the Satsop Power Plants. It's quite a climb but well worth it for the beautiful view."
Nevills Hill Trail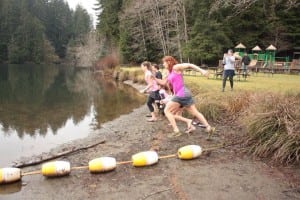 Branching off of the commonly hiked Forestry Trail, this path will take you up to a clear cut near a cell tower and give you a fantastic view of Montesano. With lots of hills, it's bound to also give you a good workout. The trail winds past old railroad beds as you leave the Forestry Trail and is cool and refreshing as you walk along the creek. My dog loves this loop and the variation we took gave us about a four-mile trek.
Lake Sylvia boasts a variety of activities – from a boat launch, to swimming zones, playground, and campsites, there is enough to keep you busy and exhausted for days. You can find maps to print off of the upper and lower Lake Sylvia Trails here:
Happy hiking!